Apply Online : J&K Girl Marriage Assistance Scheme 2022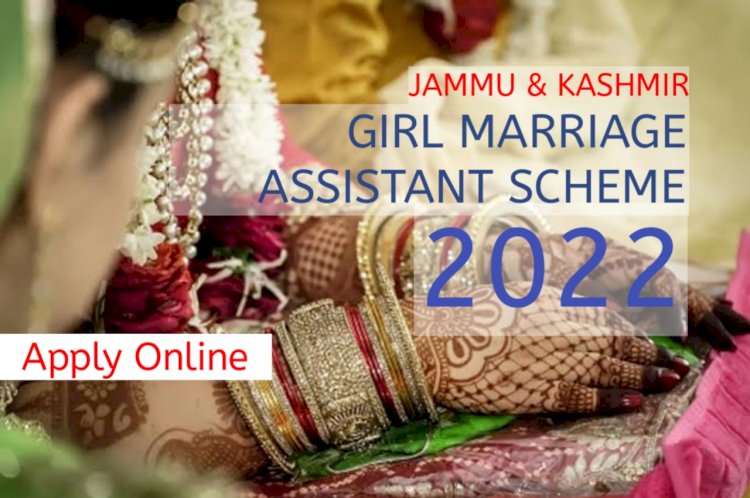 Apply Online Application Form J&k: Jammu and Kashmir Girl Marriage Assistance Scheme is meant for those poor girls who are not able affort their marriages. This scheme is Run by the Jammu and Kashmir governments, girls are provided financial support for thier marriage.
WHO IS ELIGIBLE FOR J&K GIRL MARRIAGE ASSISTANT SCHEME.
The girl should have PHH or AAY Certificate
Marriage has to be fixed(Proof required).
Have not availed similar benefit earlier from central or state government.
MARRIAGE ASSISTANCE SCHEME ONLINE APPLICATION – www.jansugam.jk.gov.in
JAMMU & KASHMIR GIRL MARRIAGE ASSISTANCE SCHEME.
This scheme scheme is run by J&K govt to support the poor girls at the time of their marriage. The assistant amount is Rs. 50,000 (fifty thousands only) and it is given one time.
HOW TO APPLY FOR J&K GIRL MARRIAGE ASSISTANT SCHEME.
The girl whose marriage has been fixed can apply for this scheme. The form can be filled online through the official website of the J&K govt.
www.jansugam.jk.in
How to get benefit of the Scheme?
WHO CAN APPLY THIS FORM, STATE MARRIAGE ASSISTANCE SCHEME IN JAMMU AND KASHMIR
The girls who is going to marry should be 18 years complete before applying for this scheme.
The girl can take the benefit of this welfare scheme only once in her life .
If in any case of second marriage she can not take this advantage again.
Only the girls who are living below the poverty line can take the benefits.
Candidate who want to take benefits under this scheme should not have taken any other central or state government scheme's benefits
The eligible beneficiaries are required to visit the website https:www.jansugam.jk.gov.in for applying online Further the applicants are required to apply at least one month in advance (before date of marriage) along with documents as mentioned below:
DOCUMENTS (ORIGINAL, CLEAR & LEGIBLE) TO BE UPLOADED ON PORTAL
01 Identity Proof: Adhaar card (both sides) or Voter Card or Driving License.
02 Date of Birth: Birth Certificate issued by school or Registrar Births and Deaths or Matriculation Certificate.
03 Adhaar: Adhaar Card (both sides)
04 Residential Proof: Adhaar card (both sides)of voter card or Domicile Certificate or Passport
05 Domicile certificate: Domicile certificate
06 Ration card: (PHH/AAY) E-ticket family detail page.
07 Bank Passbook: Bank Passbook
08 Marriage Card: Marriage card /Satnama
09 Education Qualification Certificate: Education Qualification Certificate from recognized institute
10 Affidavit: Affidavit as per prescribed format duly attested by Judicial Magistrate Ist class (format enclosed)