DEHR IN THE LAP OF NATURE
AYAZ MUGHAL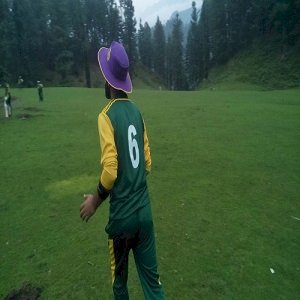 Dehr, a tourist spot, is a warmly wrapped in the arms of the mighty mountains and comfortably located in the lap of nature. It is beautiful exotic location, though visited by hundreds of visitors every year, yet unknown to most of the tourists. It is located about 3 Kilometers away from the historical Mughal Road. A quiet escape attraction is thronged by hundreds of visitors in the month of May to July every year. Surrounded by dense forest, there is plain area used as playground. People from different parts of the state visit here, conduct summer camps, organize cricket tournaments and other sports activities. Teams from different areas viz. Poonch, Rajouri, Surankote, Nowshera, Sunderbani, Shopian etc participate in the tournaments.
During this period, the visitors play and enjoy while feeling the warmth of nature, breathe fresh air and feel cool breezes throughout. Though visitors carry food items with them yet one can easily find tea stalls, dhabas and other eatables here. They stay in Kacha houses made out of mud and stone, built by Bakerwals, a nomadic tribe. But some of them fix their own portable tents at nights. Bakerwals, who move to this place from the lower plains with their live stocks during the month of May to September, facilitate the tourists with chicken, mutton, milk, butter etc. They sustain their energy needs only through the portable solar power. Tiny solar lanterns, carried by them are the only source of light during the nights.
Due to the absence of road, horses are used to carry useable goods and food item to the spot. They have to cross the difficult terrain before reaching the beautiful 'Dehr'.
"We stay here for two weeks or more, away from the worldly noise, we feel like living in the heaven", Yasir Rafiq, a visitor told when asked about it.
Another visitor Sajad Qazi said, "We wait for this season every year, so that we can come here and find peace of mind and get involved in sport activities. We just feel refreshed here and miss this place after going back".
Efforts can be made to make this spot, an alternative offbeat option for more visitors to come and stay here. Keeping in view the ecology and environment in mind, eco-friendly infrastructure can be built to facilitate more visitors. There are several such spots, untouched by human and yet to discover.