Pahari Community of J&K Finally Receives ST Reservation after Decades of Struggle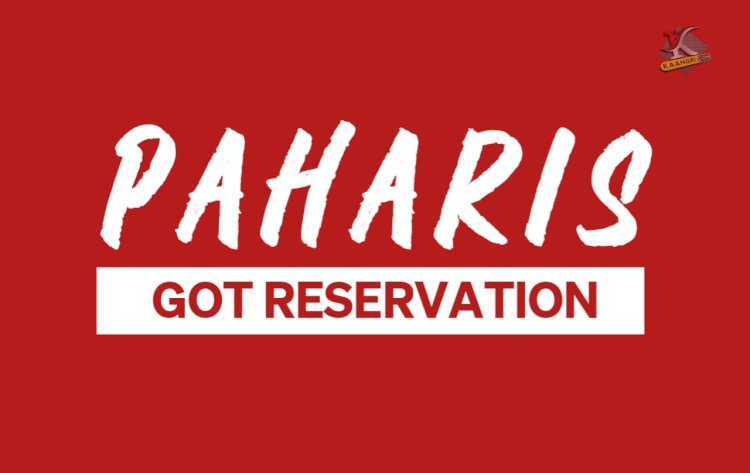 In a historic move, the Pahari community of Jammu and Kashmir achieved a major milestone as the Jammu and Kashmir Reservation (Amendment) Bill 2023 was introduced in Parliament, granting them Scheduled Tribe (ST) reservation in both job opportunities and political representation. This long-overdue recognition comes after a relentless struggle of nearly six decades, where the community faced numerous obstacles and disappointments but persevered to secure their rightful place in the nation's development.
The Pahari community, with a population of approximately 11 lakh individuals, has a significant presence in Jammu and Kashmir, particularly Rajouri, Poonch, Uri, Karnah, Baramullah, Shopian etc. However, for many years, they were deprived of the benefits that ST reservation confers upon marginalized communities, such as access to education, employment opportunities, and political representation. Their struggles only intensified after the abrogation of Article 370, which further limited their ability to participate in elections in ST reserved assembly constituencies.
The journey to achieve ST reservation status for the Pahari community was not an easy one. It involved years of persistent efforts, advocacy, and raising awareness about their unique cultural, social, and economic challenges. The community faced numerous obstacles and oppositions during their pursuit, which made their achievement all the more remarkable.
The demand for ST reservation was not just about seeking preferential treatment but addressing the systemic disadvantages faced by the Pahari community for generations. The reservation will provide them with opportunities to bridge the socio-economic gap, empower their youth, and uplift their overall standard of living.
One of the primary challenges faced by the Pahari community was the lack of political representation. Without ST reservation, they were unable to contest elections in constituencies reserved for scheduled tribes, limiting their voice and participation in the democratic process. This further exacerbated their struggles, as their grievances were often overlooked, and their issues remained unaddressed.
Despite facing disappointment and setbacks in the past, the Pahari community remained steadfast in their determination to achieve ST reservation. Their unity and resilience played a crucial role in garnering support from various sections of society and putting pressure on the government to address their concerns.
The introduction and passage of the Jammu and Kashmir Reservation (Amendment) Bill 2023 in the Parliament mark a watershed moment for the Pahari community. With this legislation, the community will have access to a range of benefits, including reserved seats in educational institutions and public employment, giving them a fair chance to compete in a competitive job market.
Furthermore, the political reservation will enable Pahari representatives to advocate for their community's interests directly and be an integral part of shaping the region's policies and development. This inclusion will undoubtedly enrich the democratic process in the region and lead to more equitable governance.
The recognition of the Pahari community's unique identity and their struggles for reservation rights is not only a victory for them but also a testament to the strength of Indian democracy. It reflects the government's commitment to address historical injustices and provide equal opportunities for all citizens.
As the Pahari community embraces this new chapter in their history, it is crucial to remember that their journey does not end here. The real challenge lies in effective implementation of the reservation policies and ensuring that the benefits reach the intended beneficiaries.
The success of the Pahari community's struggle for ST reservation should serve as an inspiration for other marginalized communities across the country to continue their fight for equal rights and opportunities. It highlights the importance of collective efforts, unity, and perseverance in achieving transformative changes in society.
The Pahari community's hard-fought battle for Scheduled Tribe reservation in Jammu and Kashmir has finally paid off. This achievement is a significant step towards building an inclusive society and a stronger, more equitable society. With their rightful place secured, the Pahari community can now look forward to a more promising future, empowered by the opportunities that ST reservation brings with it.