Veteran Indian actor and director Satish Kaushik passes away at 66, leaving behind a legacy in Indian cinema.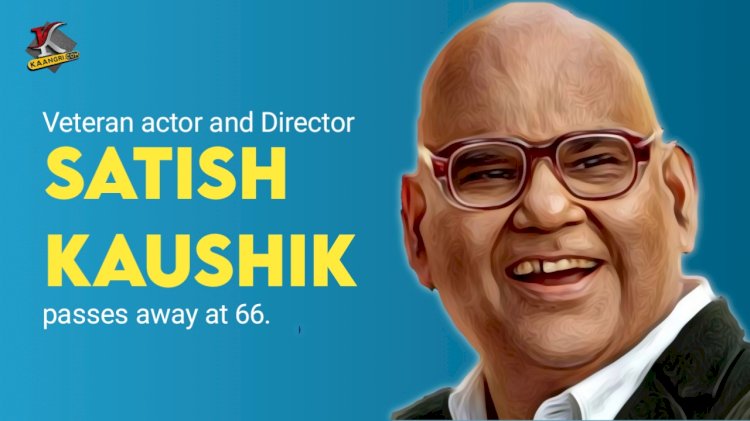 Today is a sad day for the Indian film industry as veteran actor and director Satish Kaushik passed away at the age of 66. Kaushik had been battling a heart ailment for some time and was admitted to a hospital in Mumbai on Tuesday evening. His demise has left the film fraternity in a state of shock and disbelief.
Satish Kaushik was a well-known name in the Indian film industry, having worked as an actor, director, producer, and screenwriter. He had acted in over 150 films and had directed several critically acclaimed movies, including "Tere Naam," "Mujhe Kucch Kehna Hai," and "Roop Ki Rani Choron Ka Raja." Kaushik was also known for his impeccable comic timing and had played several memorable roles in films like "Mr. India," "Saajan Chale Sasural," and "Hum Aapke Dil Mein Rehte Hain."
Born on April 13, 1956, in Haryana, Satish Kaushik started his career as a theatre actor before making his way into films. He graduated from Kirori Mal College, Delhi in 1972. He was an alumnus National School of Drama and Film and Television Institute of India.
As a film actor, Kaushik was known for his memorable performances in several movies, including his role as "Calendar" in the iconic film Mr. India, as Pappu Pager in Deewana Mastana, and as "Chanu Ahmed" in Sarah Gavron's British film Brick Lane. He won the Filmfare Best Comedian Award twice, for his roles in Ram Lakhan and Saajan Chale Sasural. As a theatre actor, he was most famous for playing the lead role of "Willy Loman" in the Hindi-language play, Salesman Ramlal, an adaptation of Arthur Miller's Death of a Salesman.
Kaushik was also an accomplished director, having directed films such as Sridevi's Roop Ki Rani Choron Ka Raja, Prem, and Hum Aapke Dil Mein Rehte Hain. He co-wrote dialogues for Kundan Shah's comedy classic Jaane Bhi Do Yaaron and was known for his work in TV countdown shows, winning the Screen Videocon Award for anchoring Philips Top Ten.
In 2007, Kaushik launched a new film company called Karol Bagh Productions with his NSD batchmate Anupam Kher. Their first film, Teree Sang, was directed by Kaushik himself. He was also working on a film based on the life of Tansen, one of the Navaratna in Akbar the Great's court.
Apart from his work in films, Satish Kaushik was also actively involved in theatre and had directed several plays. He was known for his love for the arts and had once said in an interview, "I can't live without acting, writing or directing. I can't live without the process of creation."
Satish Kaushik's contribution to the Indian film industry will be remembered for years to come. He will be remembered as a versatile actor, a skilled director, and a warm and friendly colleague who left an indelible mark on the Indian film industry. Kaushik's contribution to the industry will always be remembered, and his work will continue to inspire and entertain audiences for years to come. His passing is a great loss to the film fraternity, and he will be deeply missed.