PHC Gundna organized a two-day mega medical camp for the nomadic tribes residing at high altitudes in Block Gundna.
Health & Family Welfare Department, Doda organised a free mega 2-Days Medical Camp to the nomadic tribes residing in high altitude meadows with little or no access to the basic medicare facilities, on 10-08-2023 (Thursday) and 11-08-2023 (Friday) as a part of Azadi Ka Amrit Mahotsav.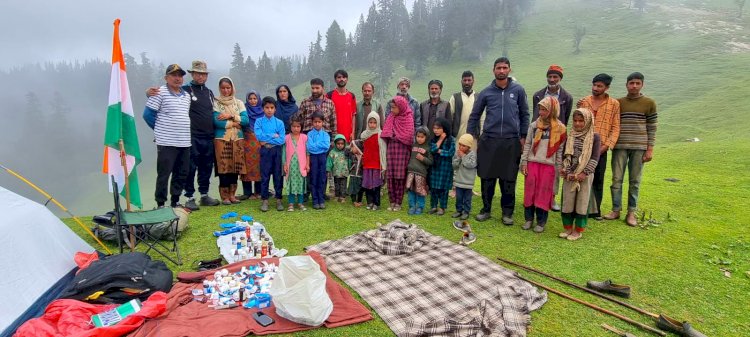 Medical Team of PHC Gundna posing with their Patients, Captured By Riaz Ahmed Shamsi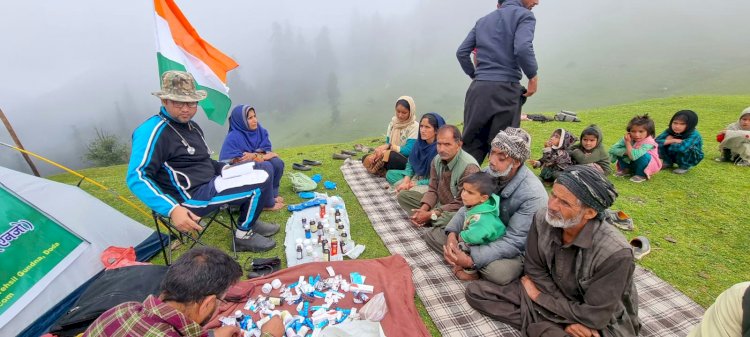 The Health & Family Welfare Department in Doda organized a two-day medical camp for nomadic tribes in high altitude meadows with limited access to healthcare. The event took place on August 10-11, 2023, as part of Azadi Ka Amrit Mahotsav.
Under the guidance of Chief Medical Officer Dr. Abdul Hamid Zargar and BMO Gundna, the camp was held at PHC Gundna. Around 500 patients were examined for NCDs, including cancer, diabetes, cardiovascular diseases, and stroke, as part of the National Programme for Prevention and Control of these conditions.
TB screenings were also conducted, with sputum samples collected for testing. The medical team worked diligently to ensure smooth healthcare provision throughout the day. This initiative highlights the vital need for improved healthcare services in underserved regions, contributing to long-term community well-being.
Dr. Hamid Parray emphasized the importance of screening camps to detect NCDs and educate people about precautions. The camp provided treatment and medication to hundreds of nomadic tribal individuals, women, elderly, and villagers.
Local residents expressed gratitude for the medical camp's impact on their community, bringing much-needed healthcare to their doorstep. Medical Officer Dr. Hamid Parray examined students, provided medicine, and educated them on personal hygiene.
Dr. Parray addressed the health issues of those in remote areas, acknowledging the challenges posed by terrorism. He encouraged local youth to pursue education, contribute to village development, and discourage terrorism.
Dr. Parray interacted with tribals, promising to address their concerns and ensure government benefits. The Health department pledged ongoing support to families in need.